A rustic styled home is a type of design that emphasizes on rugged and natural beauty. It holds a nature-simulated structure with earthy and simple colors, and ultimately an honest, natural warmth. Rustic designs bring up the essence of your home from outdoors to indoors.  
Allowing your home to have a rustic feel is a brilliant move, especially if you do-it-yourself. Having to make your furniture makes it inexpensive and memorable. It will become important in a way because you integrated your ideas and tastes with your household properties.  
In a traditional setting, a rustic style might show up as bulky and dark, but as the years passed by, contemporary rustic style has risen with a fresh and natural, lightweight and grounded feels. Here are some DIY ideas for a beautiful but absolute nature-inspired rustic style home.
Rustic Pallet Coffee Table
You can make a rustic pallet coffee table by using two pallets. A pallet is a flat transport material that backs up goods into a stable manner while being lifted. You can acquire this material from some small business that sells pallets at a low cost.  
To make your rustic coffee table, first, you need to gather some pallets. Then remove the boards from the top and place the boards back on the frame in a side by side style. Cut off the extra frame and then screw the boards down. Finally, cut off the legs equally and tighten it into the bottom pallet.  
Rustic coffee tables, with its many uses, has evolved into a must-have furniture today. It is a place set for stash magazines, drinks, or any fun decor and referred as the primary focus in any room.
Nightstand Made From Wine Boxes
Want to have a low cost, rustic and classic nightstand? You will just need an old wine box, some paint, and brushes. All you have to do is to coat the wine boxes with two layers and then let it dry for almost three days. And ta-da! You already have a very stylish nightstand.  
Then put it in your bedroom and savor the moment. As a result, it adds coziness and satisfaction to your room plus the writing's on the box will look fashionable.
Rustic Log Shelves
It is one of the most useful wall decorations that will look fantastic in modern interiors. Rustic log shelves are ideal for displaying some of your books or small things. The remarkable thing about it is that it is not hard to do it yourself if you already have a chunk of wood log.  
To be able to make a rustic log shelf, you must cut both edges of the wood log. Then chop it into one or two inches thick and slice the side which will become the back of the shelf. Lastly, screw the brackets to your wall and the base of the shelf. And then you are done.
Rustic Pallet Wood Boxes
Rustic wood boxes made out of pallets add a pleasant and nature-inspired decor to your home. It can function as a picture or postcards holder. Nevertheless, you can always make any size of it, basing on how much material you have.  
It does not require you to be skilled to make this. To be able to make wood boxes, you will need a pallet wood, ruler, saw, wood glue, small nails, and screws. Cut all pieces of pallet wood with a hand saw, then assemble the box using a few nails. Wood boxes are excellent for a long-term use and are eco-friendly.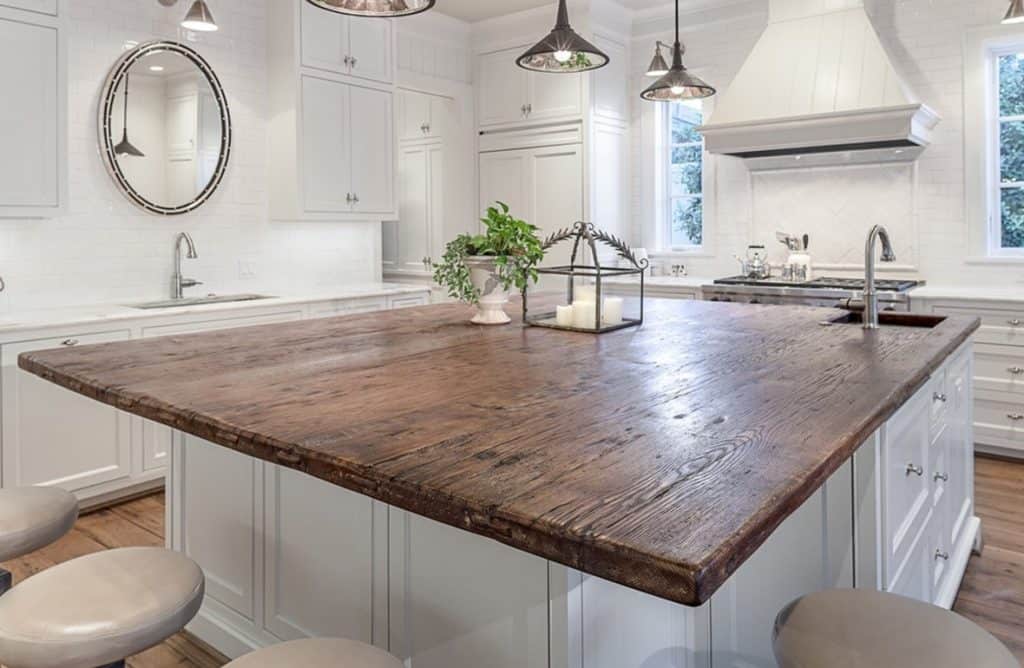 Wood Rustic Counter Top
Building a countertop out of reclaimed wood is an excellent way of helping the nature because you do not have to cut trees again just to make a new furniture. Instead, you can make use of your creativity and imagination, and the materials that can you can recycle.  
Rustic countertop dining tables are one of the convenient  furniture in your home. It is where you eat, have a drink, and relax. A rustic furniture and dining room is ideal because it engages you to have a great family get together for dinners.
Wooden Coat Hanger
Do you like natural materials incorporated into your furniture? If so, then do not wait for a long time to try to make a rustic wooden coat hanger. To do it yourself you will need three wooden poles, at least ten screws, a leather thread, saw screwdriver, and some hooks.  
To start, you need to cut the ends of the poles in such angles which makes the coat hanger able to stand alone correctly. Then hold the three poles together from the top and tighten them together by screwing. When the poles are intact, cover the screw stains by winding up the leather thread. Finally, screw the hooks on the desired spot on the wood.
Takeaway
DIY's furniture pieces are excellent because they just came from simple stone, pallets, rough wood, or other simple elements. It will give you a dose of a shabby stylish touch that will make your home more cozier. You do not have to be an expert to make rustic furniture.  
Pallet coffee table, wooden coat hanger, pallet wood boxes, log shelves, nightstand made from wine boxes, wood rustic countertop, are some of the do-it-yourself furniture ideas for a rustic style and nature-inspired home.    
Andrew Ellis is the 'hands-on' webmaster, content curator and Captain of the good ship Poshh Living. Father of one and master of none. Fitness, health and of course home improvement are Andrew's key areas of expertise. Andrew has worked in many roles, from product designer to purchaser, for spa products, garden furniture and tech. Andrew is a really well-respected voice within these business circles